Maria e i Giorni
by Cecilia Mangini
Italy
1960
10 min
OV Italian - with French subtitles
Short film
Documentary
Color
DCP
Daniella Shreir from "Another Gaze" will be attending
Retrospectives & Focus 2021
Official synopsis
Cecilia Mangini offers an affectionate portrait of Maria, one of the last representatives of the world of peasants.
The programmer's eye
A portrait of old Maria di Capriati, the woman who baptized baby Mangini and whom the latter considered as her godmother. As in all of her other films, any direct affirmation of her connection to her subject is absent. Instead, di Capriati is presented as the center of her own universe. She is the ever-active guardian of a rural estate who argues with the locals from the top of her horse-drawn cart, the piercing-eyed witch woman who scares off evil children. The voice-over suggests that she's a stubborn woman who refuses to accept her current situation: that of undergoing, in the face of modernity and aging, a sort of "crisi della presenza" (a "crisis of presence", according to De Martino). In the words of the narration, her delusions are manifested as a desire to prove, to the first embodied person, that "I am still here, I am still useful". Yet, observing her alone as she fills her time, Mangini also gives us access to moments that challenge her outward personality, as she tenderly devotes herself to God, animals, children and her memories, which she calls for "leafing through the past in case of doubt about the present".
— Another Gaze
Biography and Filmography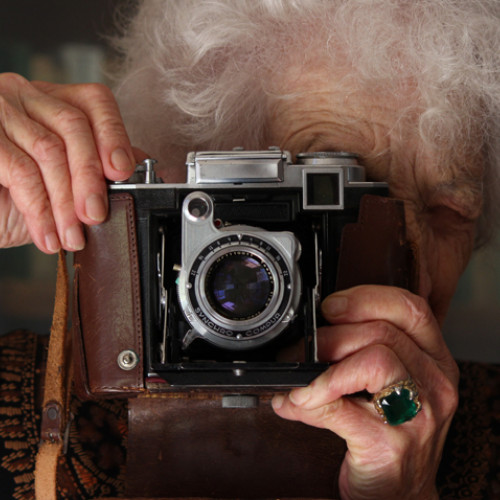 Born in 1927, Cecilia Mangini is a filmmaker, documentary filmmaker and photographer who has taken an engaged, attentive and personal look at individuals and society from the outset, with particular attention to the themes of marginality, immigration and social injustice. The first woman in Italy to shoot documentaries in the post-war period, the author of a few feature films and more than forty short films, largely co-directed with her husband Lino Del Fra, she was able to highlight the transition of her country which was moving away, sometimes slowly, from fascism, towards an industrial society. Her itinerary crossed those of Vittorio De Seta, Gianfranco Mingozzi, Florestano Vancini, Vasco Pratolini and Pier Paolo Pasolini to whom she entrusted the writing of three commentaries. Cecilia Mangini passed on some of the most beautiful images of Italy from the 1950s and 1960s to future generations. (Tënk)
2021 - IL MONDO A SCATTI - Cecilia Mangini, Paolo Pisanelli - Director, screenwriter
2020 - DUE SCATOLE DIMENTICATE - Cecilia Mangini, Paolo Pisanelli - Director, screenwriter
2013 - IN VIAGGIO CON CECILIA - Mariangela Barbanente, Cecilia Mangini - Director, screenwriter
2000 - REGINA COELI - Nico D'Alessandria - Screenwriter
1992 - KLON - Lino Del Fra - Screenwriter
1977 - ANTONIO GRAMSCI: I GIORNI DEL CARCERE - Lino Del Fra - Screenwriter
1974 - LA BRIGLIA SUL COLLO (Short) - Cecilia Mangini - Director
1973 - LA TARTE VOLANTE - Lino Del Fra - Screenwriter
1973 - LA VILLEGGIATURA - Marco Leto - Screenwriter
1967 - BRINDISI '65 (Short) - Cecilia Mangini - Director
1967 - TOMMASO (Short) - Cecilia Mangini - Director
1964 - ESSERE DONNE (Short) - Cecilia Mangini - Director
1963 - LA STATUA DI STALIN (Short) - Lino Del Fra, Cecilia Mangini - Director
1962 - ALL'ARMI SIAM FASCISTI! - Lino Del Fra, Cecilia Mangini, Lino Miccichè -Director, screenwriter
1961 - LA CANTA DELLE MARANE (Short) - Cecilia Mangini - Director
1963 - DIVINO AMORE (Short) - Cecilia Mangini - Director, screenwriter
1960 - MARIA E I GIORNI (Short) - Cecilia Mangini - Director, screenwriter
1960 - STENDALÌ: SUONANO ANCORA (Short) - Cecilia Mangini - Director, screenwriter
1958 - IGNOTI ALLA CITTÀ (Short) - Cecilia Mangini - Director
de Cecilia Mangini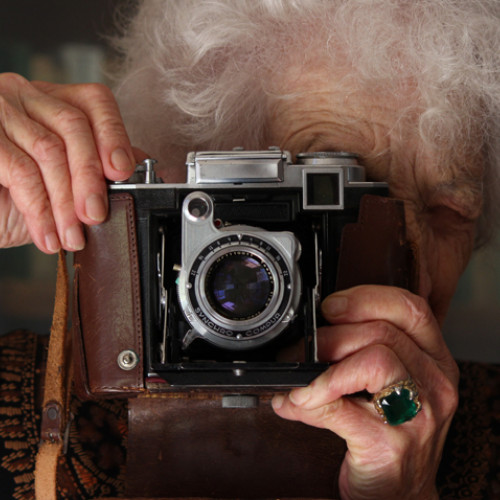 Born in 1927, Cecilia Mangini is a filmmaker, documentary filmmaker and photographer who has taken an engaged, attentive and personal look at individuals and society from the outset, with particular attention to the themes of marginality, immigration and social injustice. The first woman in Italy to shoot documentaries in the post-war period, the author of a few feature films and more than forty short films, largely co-directed with her husband Lino Del Fra, she was able to highlight the transition of her country which was moving away, sometimes slowly, from fascism, towards an industrial society. Her itinerary crossed those of Vittorio De Seta, Gianfranco Mingozzi, Florestano Vancini, Vasco Pratolini and Pier Paolo Pasolini to whom she entrusted the writing of three commentaries. Cecilia Mangini passed on some of the most beautiful images of Italy from the 1950s and 1960s to future generations. (Tënk)
2021 - IL MONDO A SCATTI - Cecilia Mangini, Paolo Pisanelli - Director, screenwriter
2020 - DUE SCATOLE DIMENTICATE - Cecilia Mangini, Paolo Pisanelli - Director, screenwriter
2013 - IN VIAGGIO CON CECILIA - Mariangela Barbanente, Cecilia Mangini - Director, screenwriter
2000 - REGINA COELI - Nico D'Alessandria - Screenwriter
1992 - KLON - Lino Del Fra - Screenwriter
1977 - ANTONIO GRAMSCI: I GIORNI DEL CARCERE - Lino Del Fra - Screenwriter
1974 - LA BRIGLIA SUL COLLO (Short) - Cecilia Mangini - Director
1973 - LA TARTE VOLANTE - Lino Del Fra - Screenwriter
1973 - LA VILLEGGIATURA - Marco Leto - Screenwriter
1967 - BRINDISI '65 (Short) - Cecilia Mangini - Director
1967 - TOMMASO (Short) - Cecilia Mangini - Director
1964 - ESSERE DONNE (Short) - Cecilia Mangini - Director
1963 - LA STATUA DI STALIN (Short) - Lino Del Fra, Cecilia Mangini - Director
1962 - ALL'ARMI SIAM FASCISTI! - Lino Del Fra, Cecilia Mangini, Lino Miccichè -Director, screenwriter
1961 - LA CANTA DELLE MARANE (Short) - Cecilia Mangini - Director
1963 - DIVINO AMORE (Short) - Cecilia Mangini - Director, screenwriter
1960 - MARIA E I GIORNI (Short) - Cecilia Mangini - Director, screenwriter
1960 - STENDALÌ: SUONANO ANCORA (Short) - Cecilia Mangini - Director, screenwriter
1958 - IGNOTI ALLA CITTÀ (Short) - Cecilia Mangini - Director